I've been moaning about the lack of decent co-working spaces in Berkshire for a while now. I live in Bracknell, near Reading, but the nearest permanent co-working space to me is probably in London. We have temporary co-working events, Jelly events. And I recently signed up to the Club b Business lounge at the Bracknell Hub, a brand new office space for entrepreneurs. I'm excited to see what happens with Club b, but I still think there's room for other co-working spaces in the Berkshire area.
I wanted to find out what else is out there. Turns out, some of the big cities have pretty amazing co-working spaces…
Sheffield Co-Working
@Pixlz on Twitter suggested I have a look at Electric Works. This is a co-working space with a helter skelter.
A HELTER SKELTER PEOPLE!
They've also got some pretty amazing facilities for freelancers too. Check out the Electric Works website for more details.
Leeds Co-Working
Next up, @Tiger_tea sent me in the direction of Duke Studios in Leeds. This is one of those co-working spaces that understands that facilities are as important as inspiring surroundings. It has cool little touches like indoor picnic benches, cardboard studios and art from the residents of Duke Studios.
Liverpool Co-Working
The Leaf Tea Shop gave me a shout, and caught my interest with their website introduction "Over the years we've worked hard to deliver our ethos, which is to provide a space that can accommodate creativity and good times." I've had a little nosy at their events too – they've got a lot to offer for freelancers and bloggers.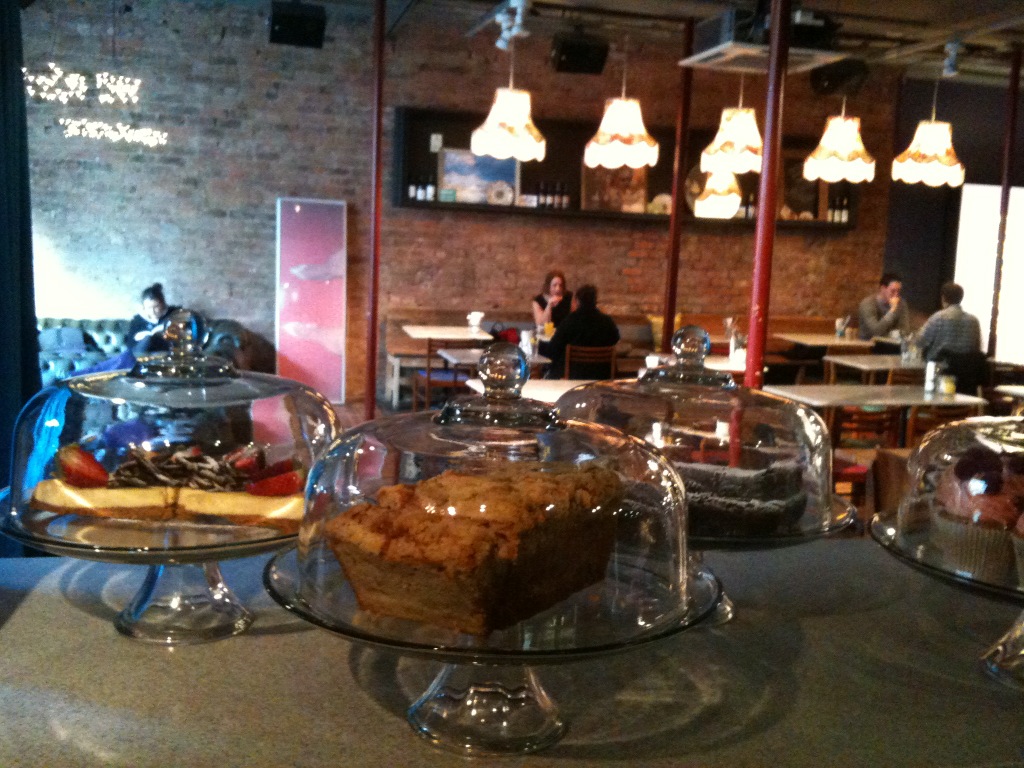 Brighton Co-Working
Several people in the Brighton area raved about Super Super HQ. I'm not surprised – it's got that quirky, cool look that works perfectly in one of the UK's hippest cities. They list their perks as biscuits, tea, being close to the sea and free entry to monthly S+S Sunday night film club for you and your family. More co-working venues like this in the UK please.
London, Bristol and Manchester Co-Working
If you tend to travel quite a bit, the B-Hive co-working spaces are worth a look. For £25 a month, you have access to the B-Hive locations in London, Bristol and Manchester, which includes refreshments, free wi-fi and discounts on various other business service. They're aimed at women – and the beautiful surroundings reflect this.
I need YOU!
So, that's just a few of them. There are plenty of other co-working spaces though. I've started to create a Google map pinpointing all the co-working spaces in the UK, so you can find your nearest one with just a few clicks.
The Freelance Lifestyle Co-Working Venue Map

View Freelance-Friendly places in a larger map
Want to add your favourite co-working space? Just fill in the form below, and I'll add it!
[contact-form][contact-field label='Location' type='text' required='1'/][contact-field label='Name of Venue' type='text'/][contact-field label='Venue website' type='url'/][contact-field label='Your Name' type='name' required='1'/][contact-field label='Your Email' type='email' required='1'/][contact-field label='What does it offer?' type='textarea' required='1'/][/contact-form]
Where are your favourite co-working spaces?